Almost 80 degrees yesterday and likely topping 80 degrees in Jackson today, calling for a double-take on the calendar to make sure it is really only early June.
When you consider that the average high temperature in Jackson is in the upper 60's the first few days of June, upper 70's or lower 80's seems more like early July.
Nowhere near a record high though, as we have seen temps as high as 89 degrees this early in the year, back in 1988.
Probably feels warm compared to the start of June the past couple years, which were running much cooler than normal. (See table below)
| | | | |
| --- | --- | --- | --- |
| High Temps in Jackson (°F) | | | |
| June 1st | | | |
| June 2nd | | | |
| | | | |
May of 2012 had 11 days with a high of 70 degrees or warmer. May of 2011 had just one day that hit 70. May of 2010 had one day it hit 73, only day of 70-degree weather that May. So, this May probably felt very unusual to Jackson residents.
It was just this past Memorial Day Weekend though that we had record cold temperatures here in Jackson. The high on Sunday, May 27th, 2012 was only 43 degrees! (The old record cold high temp on that date was 44 degrees, set back in 1954).
What a difference a week can make…..and it looks like we cool down mid-week this week, warm up a little by Friday, and then cool down even more this coming weekend, June 9th& 10th.
(See map of 6 to 10 Day Temperature Outlook showing a cooler Northwest U.S. early next week.)
That's sort of the nature of "spring" weather in Jackson, some days feel like it's summer already, then the next thing you know you're pulling on the fleece jacket and watching it snow.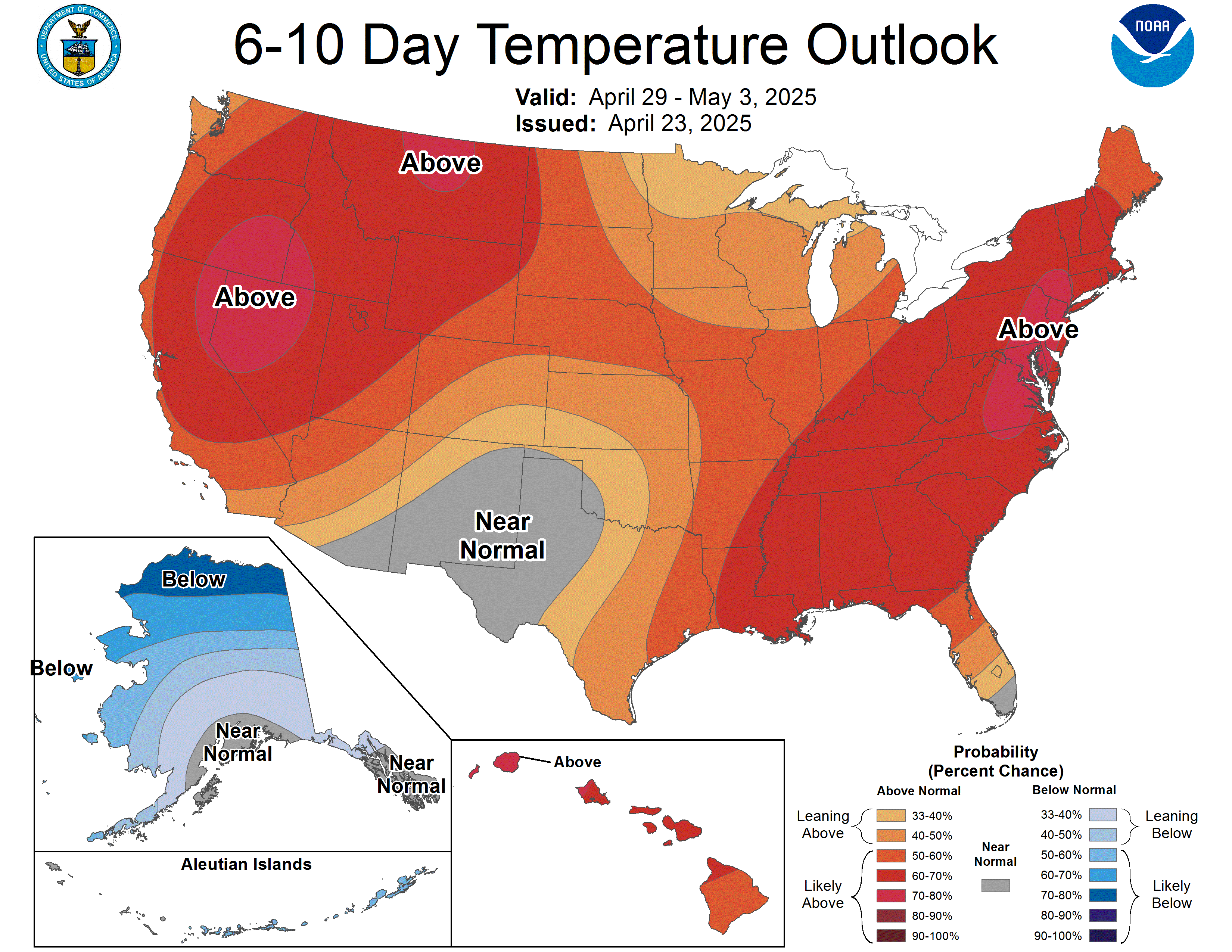 6 to 10 Day Temperature Outlook
Text submitted by meteorologist Jim Woodmencey
Map from NWS